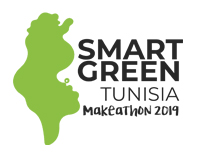 September 21-24 2019
Laico Hotel, Tunis, Tunisia
SMART GREEN TUNISIA MAKEATHON
Africa Startup Summit will take place in Tunis, 24th & 25th of September, under the aegis and the invitation of Tunisian Government, Smart Africa Alliance, with its Co-hosting partners
GIZ & Make IT in Africa,
Welcomes for the first time in the African continent, the biggest event dedicated to innovation and education 4.0, A Makeathon led by the German company ITQ GmbH
From 21.-24.09.2019, ITQ GmbH a German company organizes with his Tunisian partner TPM and its SMART GREEN TUNISIA Organizing Committee the first edition of the SMART GREEN TUNISIA MAKEATHON.
The event will be a 4-day challenge full of innovation focused on Smart Home, Smart City, IoT, Automation, Robotics, Smart Farming, Smart Production, Smart Health, Smart and Green Energy, Smart Mobility as well as Artificial Intelligence. The MAKEATHON will take place as part of the Afric'Up Startup Africa Summit.
ABOUT ITQ GMBH
ITQ GmbH is a company with the core competence in mechatronic – software and systems engineering! Furthermore, the company particularly focuses on sustainable training concepts to shape the future. For this reason, ITQ GmbH fosters young academics in practice-oriented assignments as well as international Education 4.0 projects.
WHAT IS A MAKEATHON?
The "MAKEATHON" is one of ITQs Education 4.0 concepts which is an innovative educational event in which several teams (also from different fields of studies) create and develop technological prototypes as well as innovative solutions during a short period of time. The challenges or problems could be provided whether by the sponsoring companies or within the participating teams.
The name "MAKEATHON" comes from the combination to "MAKE" and "MARATHON". It is a special live-event where participants spend several days creating, hacking, developing, designing, and pitching a software or hardware project they have built from scratch.
THE MAIN GOAL OF SMART GREEN TUNISIA
Besides the challenges the MAKEATHON provide an open innovation space and a network community where Tunisian as well as international companies can meet with local and international students to present their ideas and prototypes as well as to share their expertise and experience. The winning team will be sponsored to participate at the next "SMART GREEN ISLAND MAKEATHON 2020" in Las Palmas, Gran Canaria, Spain.
BE READY FOR INNOVATIVE AND EXCITING CHALLENGES !
Date: 21.09.-24.09.2019
Registration: 08:00 till 09:00
Time: From 09:00 till 19:00
Location: Laico Hotel, Escale Room, Tunis
Duration: 48 hours full of innovation
Participants: Programmers, Developers, Engineers, Designers, Innovators, IT-specialist and all interested persons Interdisciplinary team: A group of people with various competencies
Material: Free hardware for every team
Catering: Free drinks and snacks
T-Shirts: Everyone will get a MAKEATHON T-Shirt
Networking: Meet and communicate with companies as well as successful practitioners
Business challenges: Work out real business challenges and develop an innovative prototype
Prize: The winning team will be sponsored to participate at the next "SMART GREEN ISLAND MAKEATHON 2020" in Gran Canaria
JOIN US NOW AT THE SMART GREEN TUNISIA
MAKEATHON
Are you interested in? Than just be a part of our SMART GREEN TUNISIA MAKEATHON and join us as a Sponsor, Partner or as a Participant! We are looking forward to seeing you at our MAKEATHON!
MANY THANKS TO OUR MAKEATHON SPONSORS AND PARTNERS !