SMART Africa is a bold and innovative commitment from African Heads of State and Government to accelerate sustainable socioeconomic development on the continent, ushering Africa into a knowledge economy through affordable access to Broadband and usage of Information and Communications Technologies.
The Transform Africa Summit held in Kigali, Rwanda on 28th-31st October 2013 culminated in the adoption of the Smart Africa Manifesto document by seven (7) African Heads of States (Rwanda, Kenya, Uganda, South Sudan, Mali, Gabon, Burkina Faso) in which they committed to provide leadership in accelerating socio-economic development through ICT's.
On 30th-31st January 2014, The SMART Africa Manifesto was endorsed by all Heads of State and Government of the African Union at the 22nd Ordinary Session of the Assembly of the African Union in Addis Ababa. This development places the Manifesto at the heart of the ICT agenda in Africa beyond just the 7 original signatories at the Summit to all the 53 African countries.
The Smart Africa Alliance has since grown to include 24 African countries that represent 600+ million people.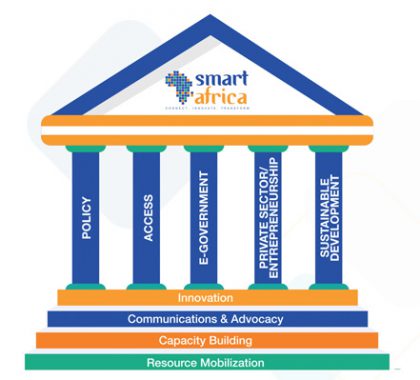 The Alliance is a framework for implementation, monitoring and evaluation of the SMART Africa Manifesto designed to make it actionable. Currently, the Alliance is a partnership bringing together all African countries adhering to the Manifesto represented by the AU, the ITU, World Bank, AfDB, ECA, the GSMA, ICANN and the Private Sector.
Besides its initial membership, other organizations and countries sharing the same vision, interests and goals will be admitted to the Alliance.
The SMART Africa Alliance has five pillars which reflect the five principles of the Smart Africa Manifesto. These pillars are (1) Policy, (2) Access, (3) e-Government, (4) Private Sector/Entrepreneurship and (5) Sustainable Development.
The pillars mentioned above are built on four, cross-cutting enablers which will support the implementation of SMART Africa. These enablers are (1) Innovation (2) Communications and Advocacy (3) Capacity Building and (4) Resource Mobilization.
The five pillars and four enablers, when effectively developed and combined, will contribute to Economic Growth and Job creation which remains the ultimate goal of the Smart Africa Manifesto.
About the 
Transform Africa Summit

Transform Africa Summit is the annual leading African forum bringing together global and regional leaders from government, business and international organizations to collaborate on new ways of shaping, accelerating and sustaining Africa's on-going digital revolution.
The Transform Africa Summit is the Smart Africa flagship event. Following four successful editions, the fifth Summit will take place in Kigali, Rwanda, from 14 – 16 May 2019.
Geared towards connecting, innovating and transforming the continent into a knowledge economy thereby driving global competitiveness and job creation, Transform Africa Summit aim is to enable Member States to become more competitive, agile, open and innovative smart economies with the most favourable business climates that attract large-scale investments, reward entrepreneurship and enable fast growth and exports, leveraging ICT innovations to transform African nations into smart societies.
The very first edition of Transform Africa Summit held in Kigali, Rwanda on 28 th – 31 st October 2013 culminated in the adoption of the Smart Africa Manifesto document that aims to:
Put ICT at the centre of national socio-economic development agendas of Member States;

Improve access to ICT especially broadband;

To improve accountability, efficiency and openness through ICT promoting the introduction of advanced technologies in telecommunication;

To put private sector first; and

To leverage ICT to promote sustainable
Under the theme "Boosting Africa's Digital Economy", the 2019 Summit is expected to attract over 4,000 participants, including Heads of State and Government, First Ladies, UN Broadband Commissioners, Ministers, Regulators, Mayors & Governors, Public & Private Sector, International Organizations, Industry Leaders, Investors, Entrepreneurs, Young Innovators, Civil Society and Academia.
This year's summit will also feature the second Transform Africa Economic Forum, a Government to Business engagement which will take place on the 7th of May 2019, where attending Ministers and Cabinet Secretaries will engage with a targeted audience of business leaders and high net worth investors on investment opportunities and areas of collaboration. This economic forum will help deliver tangible results in terms of public-private partnerships, agreements and consequently, deploy investments in our respective economies.